I've been doing some interviews for the
transmission website
first of all with Annie and with interviews with Holy Ghost! & Slagsmalsklubben upcoming.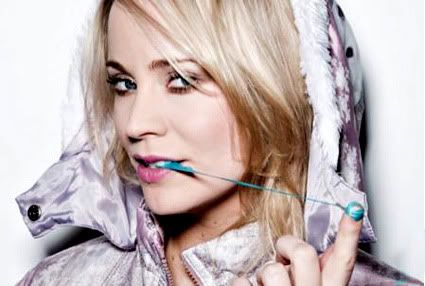 Transmission Talks Exclusively To Annie
Interview by Thomas Lennon
-
Annie achieved much acclaim and success with her debut album 'Anniemal'. Since then she contributed a mix in the long running DJ Kicks series and she recently released her second album 'Don't Stop' on Totally/Smalltown Supersounds after much major label trials and tribulations. She took some time for her live show rehearsals to speak with transmission.
-
With all the false starts with Don't Stop's release are you glad it is out there finally? (I won't ask about the circumstances as you're probably sick of discussing it at this stage)
It feels amazing and I'm so glad that 'Don't stop' is finally out there. I was at some stage thinking that it would never be out. So I'm really glad that it is out there.
-
In previous interviews you have stated that you felt that your music was well produced but the song writing needed an improvement, how did you approach the song writing approach this time around?
I'm a perfectionist, so I'll always think that I can do better. I wrote so many more songs this time around and choose the best ones out of the 350-400 tracks I wrote. I used to write very slowly and while I was writing 'Anniemal' I could sometimes spend a month looking out the window. Watching the birds and the moon and just writing one sentence a day. I guess I'm a bit quicker these days... thank god
-
-
You've recently begun writing for others acts such as Mini Viva with I left my heart in Tokyo, How easy was it to adapt to that aspect of the song writing? Do you have clear mindsets when writing say a song for yourself or a song for another act? Is writing for others an area you plan to concentrate on for the foreseeable future?
It's funny because 'I left my heart in Tokyo' was actually suppose to be an Annie track, but it didn't't suit me that well. But I've been writing for others and I really enjoy it. At the moment I'm writing for an artist that I know a little bit about. It's sometimes easier that way. I don't usually think about my own project while I'm writing for others. But it always inspires me to write more music for myself and that always great.
-
A lot of the current pop music seems to be missing personality which is something that that doesn't' come through on your music, why do you think that is? Interference of labels? Lack of belief in the artist?
I think a lot of labels are just so desperate and are totally panicking because records are not selling anymore. In desperation they contact some producer/songwriter that maybe doesn't understand the artist or her/his mind, voice or basically anything. Then it all goes wrong from the start. A lame start like that is often the end of great music, just bad business.
-
You worked with Paul Epworth (Phones) on three songs for the album, how was that experience and how is working with Paul differ than with other producers?
He's a great guy, really hardworking and a brilliant drummer too. The good thing was that I knew him from before and we have similar musical taste. It was easy to start off, I wanted to do some club tracks and he was up for that too. It was really fun to record those songs with him.
-
Any plans to release another official mix album like your excellent contribution to the DJ Kicks Series?
Oh I'm so glad you like it!! I actually did a mix cd that I sold on the net some weeks ago called the 'Wednesday Mix' but its already sold out. But I might do some more maybe a 'Friday Mix'. I love to do mixes so much fun.
-
-
Since you've established your own record label totally will we see more Annie material in the near future? Any plans to work with any producers yet?
I'm starting to record some new songs in February… and there will be some more singles from 'Don't Stop' soon. I just received a remix of 'I Don't Like your Band'. sounding good.
-
It will be the 10th Anniversary of The Greatest Hit's initial release this year. Any plans to celebrate that? Given that ten years in the music industry these days is something of an achievement.
He he, to be honest I did forget about that. I'm really bad with remembering birthdays, numbers and so on, oops but it should be celebrated I'll have a party soon.. It'll put on my new dress and have a party at my house…. Your all invited
-
Do you plan to concentrate on touring the album this year?
Yes, I'm going to do some more do gigs and some live shows too. I'm rehearsing on the live set as we speak...
-
You played supported Saint Etienne for their London shows recently, how was that?
It was fun. I'm such a big fan of Saint Etienne , so I was excited, it was packed with people. I'm not if they all knew who I was. But it looked like they enjoyed themselves. At least I did.
-
Now that you run your own label how are you coping with the business side of music? Is it hard adjusting to it?
It's a lot of work. Sometimes too much but I get some help so I don't have to sit by the machine 24 hours. It's mostly great to see that it's so much interest. It's better to be busy then not having anything to do.
-
Here's two tracks from the new album:
http://www.rcrdlbl.com/artists/Annie/track/Dont_Stop
http://www.rcrdlbl.com/artists/Annie/track/I_Dont_Like_Your_Band
Don't Stop is out now on Totally/Smalltown Supersounds